"Be prepared" may be the Boy Scout's famous motto, but when it comes to sex, it can come in handy. If it's possible sex might be on the menu in the near future, being ready for most situations can be just an arm's reach away. How? With a perfectly pre-stocked nightstand and a convenient, portable sex kit at the ready.

What is a "sex kit?" A sex kit is a handy-dandy transportable collection of sexy-time essentials that are needed for sex "on the go." Perhaps you're spending the night at your partner's house for the first time and want to make certain you'll have all you need for a night of safer sex, or maybe you're traveling and want to be prepared for and potential sexy times that might present itself. It's always a good idea come well-equipped.
The number one essential of a good mobile sex kit contains barriers like condoms to help prevent potentially contracting an STI or getting pregnant. I like to suggest carrying one of each size to be safe; average, medium, large and extra large (no spermicide please, that can be very irritating to delicate skin), but if there's only room for one, I'd stick with average to medium. An additional barrier to carry is dental dam, a square piece of (usually) latex, used to stretch over a vulva or anus during oral sex, in order to guard against STI's during oral sex.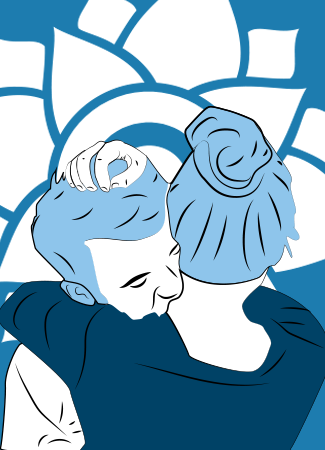 The second most important item to bring is personal lubricant. Lube helps everything glide without too much friction so sex is more comfortable and possibly more pleasurable. Lubricant can also help prevent micro-tears in the vagina that can often be a result of too much friction. Water-based lube like Sliquid Naturals or silicone lube like Sliquid Silver (note: silicone lube is not safe for use with silicone toys) and then there's always the hybrid lube, like Sliquid Silk which is a blend of mostly water-based lube and a little silicone for that extra slip. Flavored, water-based lubricant like Sliquid Swirl, is also a fun choice and adds another delicious dimension to oral. As luck would have it, Sliquid makes small sampler boxes called the "Lube Cube" consisting of slim pillow packs of lube in all varieties that are perfect to pop in your purse or pocket, as well as a convenient 2 oz. size bottle, terrific for travel. At the very least, those two items, condoms and lube, are vital to any sex kit.
Additional, items you might want to include are: latex or polyisoprene gloves should anal or prostate play be a possibility, and an individual personal wipe (like Swipes) to clean up before, during or after you're done playing. If you still have room in your kit for some extras, I like to add a mint for fresh breath (or for a cool twist to oral) and a mini clitoral vibe and/or a flexible cock ring depending on what kind of genitals might be playing together.
While you're at it, you might as well compile a second kit to keep in your nightstand or anywhere else you usually have sex (except your car, as condoms and heat don't do well together). It can't hurt to be covered (no pun intended) in all settings and you'll never be stuck in a situations where one of you has to run to a convenience store to pick up some condoms. As long as you have your sex kit current and stocked, you'll always "be prepared!"