Studies show that for some, summer sex is the best sex they have all year. There are myriad reasons this could be true. For instance, people correlate summertime with fun and relaxation and that mental shift alone can set desire in motion. In fact, there's a small study that suggests just the idea of warmth can be associated with an impulse for intimacy. But before you book that trip to a balmy locale (or stock up on space heaters), check out these tips for taking advantage of our day star and its outdoor heat in your own environments.
Get out! There's no better time than summer to take advantage of getting outdoors, in fact it might benefit your sex drive to get out in the sun.. Sunlight has been shown to positively affect the serotonin levels in our brain. Serotonin is a neurotransmitter that positively affects our pleasure centers and is associated with feelings of joy. In other words … the sun can make you happier.
More energy: With more sun to be absorbed during summertime, our bodies produce less of the hormone melatonin which regulates our sleep and wakefulness. In other words, we feel like we have more energy, and therefore feel we have more energy to burn … if you catch my drift (wink, wink). So take advantage of soaking in the sun and all it's encouraging affects!
More time: With longer days in the summer, we have more opportunities to soak in the sun while taking part in fun outdoor activities, such as; bike riding, surfing, swimming, hiking or even some more adrenaline inducing interests like jet-skiing, roller coasters or rock-climbing. Adrenaline is a hormone that increases your heart rate as well as the blood flow to your muscles (including your genitals). At what other time does adrenaline have that effect on bodies? During sex! Elevated adrenaline levels outside the bedroom, can carry over to inside the bedroom. So, get thee to the nearest amusement park, rock-climbing room or local hiking trail and see how adrenaline affects you and your partner of choice!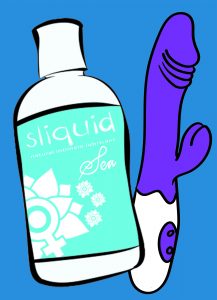 Be creative: Creativity can be exciting so why not bring it into the bedroom! Summer is a great time to experiment with anything cool in the bedroom. Try putting your personal lubricant (like Sliquid Sea) in the fridge for a few minutes before you use it for a little refreshing change of pace. If you like to double up on the heat try a warming lube, like Sliquid Sizzle, that activate upon application that are pleasurable and different. In addition, you might want to experiment with sex toys and temperature play. Try something new and put a glass dildo in a cool glass of water before use, or put metal nipple clamps, or your favorite vibrator in the fridge for 5-10 minutes and see how that might add to your fun.
Summertime fun doesn't always have to involve external heat. if you prefer to cool off, try washing the car together or seeing a sexy movie in air-conditioning or take a swim together in a local lake, pool or jump in the water at the beach. If none of these ideas float your boat, try to take advantage of all the extra activities and opportunities that warmer weather provides during the summer months. After all, summer only comes once a year, but that doesn't mean that you have to!