2017 XBIZ Awards Winner For The Taking, Times Two!
Sliquid Brings Home Not Just One, But Two XBIZ Awards of Grand Recognition
FOR IMMEDIATE RELEASE
Contact: Sliquid – info@sliquid.com, (800) S L I Q U I D
DALLAS, TX – Jan. 18, 2017 – Natural Intimate Lubricant and Body Products creator Sliquid kicked off 2017 with a key praise of recognition, taking home not one, but two XBIZ Awards this past weekend at the highly acclaimed awards show in downtown LA.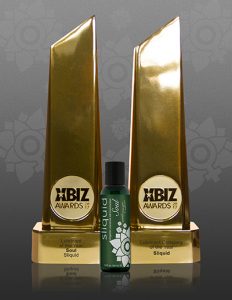 Sliquid took home trophies for Lubricant Company of the Year and Lubricant of the Year for Sliquid Soul. This is Sliquid's fifth win for XBIZ Lubricant Company of the Year since 2012. The boutique brand of all-natural intimate products now illuminates a total of 7 XBIZ Awards, including this year's Lubricant of the Year, and the 2016 XBIZ Executive Award for CEO and Founder, Dean Elliott. The award-winning company has no plans on slowing down their momentum any time soon in their quest to further pursue the latest and greatest in body-safe intimate products. Sliquid debuted a total of six (6) new sku's at the January 2017 XBIZ Retreat, and the enthusiasm from both new and existing clientele motivates this company to continue to innovate. Using 100 percent vegan-friendly ingredients, Sliquid products are glycerin free, paraben free, gluten free, and pH-balanced to provide maximum comfort and enhancement to any sexual experience with female body-safety at the forefront.
Sliquid CEO Dean Elliott says "We are blessed beyond measure for the brand recognition among our peers. Honestly, we are truly humbled to receive these top honors in our categories. This is simply incredible, and a gracious 'THANK YOU' doesn't seem adequate, however … Thank you to our exceptional Retail & Distribution Partners worldwide, the entire Sliquid Team, and to XBIZ for hosting the Best & BIGGEST Industry awards show."
###
About Sliquid LLC
Sliquid is the creator of personal glides, massage oils and bath & body products made using only natural elements and body-safe essential oils, botanicals and ingredients. The female-focused company is dedicated to creating effective intimate products that put the health and comfort of the consumer first, and committed to keeping glycerin, parabens and petrochemicals out of every formula. Using sparse amounts of only the safest preservatives and natural alternatives to common irritating ingredients, Sliquid offers the cleanest, most natural glides on the market. Now with more than 60 products across a variety of collections including Ride BodyWorx for Men – Sliquid is a brand that health-conscious consumers ask for by name, becoming a fan for life. A recipient of the XBIZ award for "Sex Lubricant Company of the Year" in 2012, 2013, 2015, 2016, & 2017 and 2014 StorErotica "Lube of the Year."