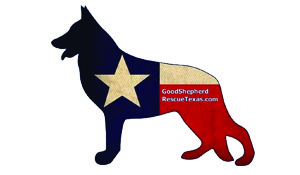 Good Shepherd Rescue & Sanctuary
Founded in 1999. We are a volunteer group operating in the Dallas / Fort Worth area rescuing and rehoming German Shepherds. Dogs in our program are in foster homes (private homes of volunteers) and treated like one of our own. We do NOT have a shelter. The advantages of having our rescued GSDs in private homes is that we interact with them frequently and have insight into the personalities and likes and dislikes.
Our volunteers give freely of their time, money, and affection to save these animals. Please keep in mind that they are ALL volunteers – no one gets paid, and we all have full-time jobs, families, and lives too. Please be patient if we cannot answer you immediately – we do strive to respond within 24-48 hours to all inquiries.
https://www.goodshepherdrescuetexas.com/
Go Back