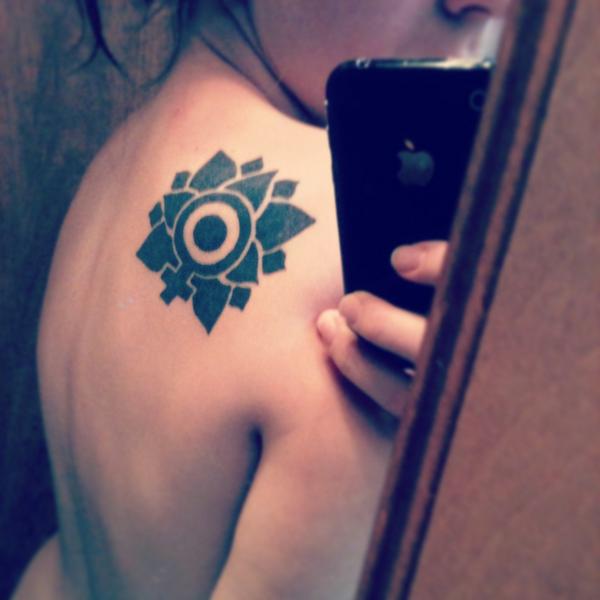 Enough to get our logo tattooed proudly on your shoulder?
We barely believed it when Kate tweeted to us:
@sliquidllc like my tat? ;) twitter.com/ktuvwxyz/statu…

— Kate L (@ktuvwxyz) January 30, 2013
Kate confirmed via DM that the tattoo is very much real, and it's her first! Here's what she said about getting the tat and why she loves it:
@Sliquidllc: Hi Kate, We love your tattoo! Is it really real?! … Can you tell us a lil about what inspired you? -K

@ktuvwxyz: I'm glad you all love it! I have to get it touched up, but nevertheless I am very pleased with how it turned out! A couple years ago I got the organic lube from A Woman's Touch in Madison, WI and LOVED it! I also loved the symbol and what it represents: Female passion, sexuality and love. I've been thinking about the tat for a couple years now and finally just went ahead and did it! The symbol also resonates with my passion for what I study: gender & women's studies. I love that I can literally now take that to the grave with me.
We really love Kate's tattoo, obviously! I think Dean Elliott, our founder and CEO, might have already made an appointment to get started on his.
How much do YOU love Sliquid's body friendly products? You don't have to get the tattoo to show your love, but if you tell us what you love about Sliquid in the comments below you'll be entered to win a 4.2 oz bottle of our Sliquid Oceanics from the tattoo inspiring Organics lubricant line. Winner will be chosen on 2/15/13. We'll ship the prize free within the US.
Thank you Kate, for sharing your story and this image of our new favorite tattoo ever, and inspiring us to share the love with all of our fans and friends too. Your love and appreciation are what makes us great!
We have a winner! Random.org picked number 11 and that's siggi:
"I love that Sliquid products are all-natural and free of parabens (ICK!), sorbitol, glycerin, propylene glycol, sulphates, DEA, PEG, and that they are gluten-free and vegan. Even more than that, though, I LOVE how they smell. I have NEVER found lube that allows sex to smell so… well… naturally sexy! My old favorite lube had a plastic smell to it that made us smell like a factory in our cuddly afterglow. I will never go back to stinky, sticky, greasy, toxic lubes! I would be really excited to try Sliquid Oceanics – carrageenan, nori, and wakame, WOW!"
Congrats siggi and thank you all for your love and comments. Enjoy!