Essentials Lube Cube
$15.00
This product is 100% free of DEA, gluten, glycerin, glycol, parabens, PEG, propylene glycol, sorbitol, and sulfates.  It is also 100% vegan-friendly, non-toxic, and hypoallergenic.
Glycerin free and paraben-free
100% Vegan friendly
Cruelty-free / NO animal testing
Hypoallergenic and non-toxic
Uniquely blended to emulate your body's own natural lubrication
pH balanced neutral
The Essentials Lube Cube Contains 2 Sample Packs Each of:
Sliquid Naturals H2O, Sliquid Naturals Sassy, Sliquid Naturals Silver, Sliquid Naturals Silk, Sliquid Naturals Sea, Sliquid Naturals Satin
Description
Sliquid Essentials Lube Cube – The Essentials Collection from Sliquid Naturals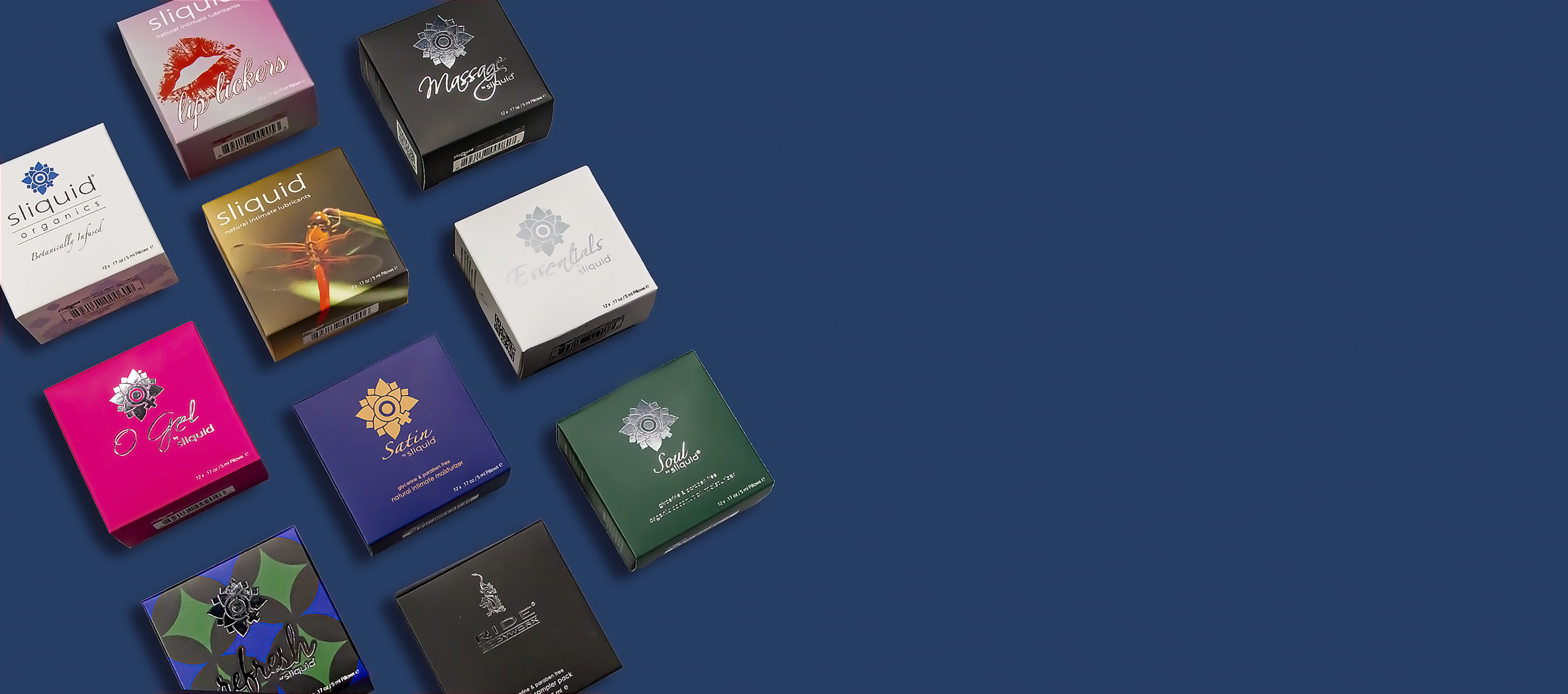 Sliquid Lube Cubes are carefully crafted selections of our most popular lubricants. Each Lube Cube from the Naturals line comes with 12 individual 5ml pillow packs, so you can try out a range of Sliquid products before choosing a larger bottle. The Lube Cubes are ideal for travel as well, being well under the limit for carry-on items at the airport. There are currently 4 different Lube Cube collections: the Essentials Lube Cube, the Naturals Lube Cube, the Lip Lickers Lube Cube, and the Satin Lube Cube.
Sliquid Naturals H2O Ingredients
Purified H2O, Plant Cellulose, Cyamopsis, Potassium Sorbate, Citric Acid
Sliquid Naturals Sassy Ingredients
Purified H2O, Plant Cellulose (from Cotton), Cyamopsis (Guar Conditioners), Potassium Sorbate, Citric Acid
Sliquid Naturals Silver Ingredients
Cyclopentasiloxane, Dimethicone, Dimethiconol
Sliquid Naturals Silk Ingredients
Purified Water, Plant Cellulose, Isopropyl Palmitate, Polysorbate 20, Dimethicone, Emollient Ester, Potassium Sorbate, Citric Acid
Sliquid Naturals Sea Ingredients
Purified Water, Plant Cellulose (from Cotton), Cyamopsis (Guar Conditioners), Carrageenan, Wakame, Nori, Potassium Sorbate
Sliquid Naturals Satin Ingredients
Purified Water, Plant Cellulose (from Cotton), Carrageenan, Organic Aloe Barbadensis Decolorized Leaf Juice*, Natural Tocopherols, Organic Cyamopsis (Guar Gum), Potassium Sorbate, Citric Acid
*reconstituted
Additional information
| | |
| --- | --- |
| Weight | .22 lbs |
| Dimensions | 2.75 × 1.5 × 2.75 in |