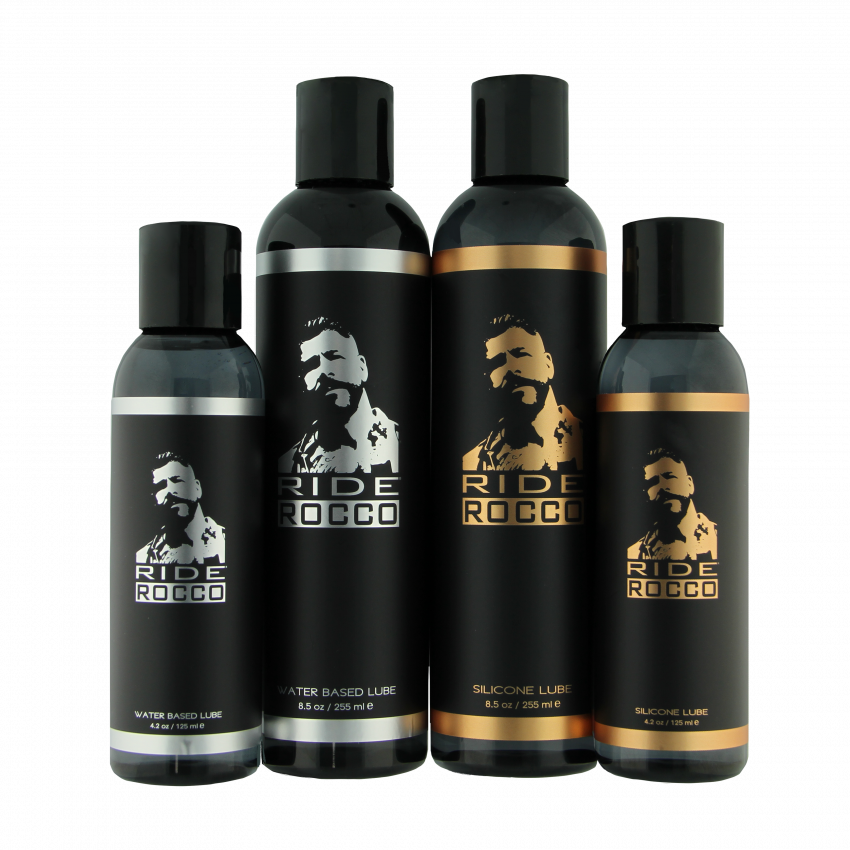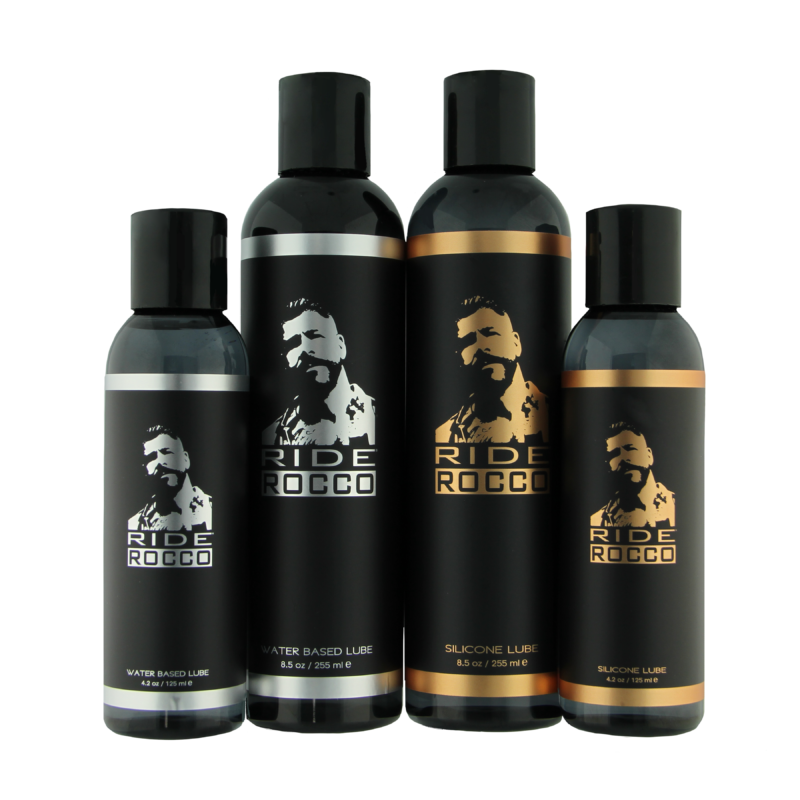 Dallas-based Sliquid has struck a deal with one of the gay adult industry's top male performers, Rocco Steele, to curate a line of high-performance lubricants that speak directly to an LGBTQ+ customer base. In this new partnership, Sliquid will be manufacturing a water- based formula and a silicone formula with Rocco's name attached to it, expanding the product range of their existing LGBTQ-focused men's line, RIDE BodyWorx.
The partnership between the adult film star and the lubricant powerhouse came to be during a meeting between Rocco and Sliquid's founder, Dean Elliott, while both where in Los Angeles on business in the summer of 2019. "I'm standing in front of this big, burly muscle guy with tattoos all over him and I'm curious to what his story is," Elliott remarks about his first encounter with Rocco. "Then he talks with this deep, distinctive voice that's similar to my own, which I don't run into very often! I was like this guy has a story to tell, and sure enough, we hit it off with a great conversation about his backstory and later-in-life journey into the adult industry. He's a great guy."
"I'm good friends with Buck Angel, who has a product line with Sliquid called the T-Collection, and he is the one that introduced me to Dean," says Steele. "I was already aware of the success of Buck's T-Lube, as well as Sliquid's reputation of being a leader in the industry's lubricant space. As someone who uses lube almost daily, as a tool of my trade, producing a namesake lubricant has been on my to-do list for many years. Meeting with Dean that day just happened to be the right timing, and the perfect partnership with Sliquid was born."
The RIDE Rocco Collection is debuting with two types of lubricant offerings. RIDE Rocco Water Based is a slick, water-based lubricant that is infused with natural seaweed extracts, including Carrageenan, Nori, and Wakame. The addition of these extracts makes Rocco's water-based lube ideal for men because it won't become sticky or dry up quickly when used topically. RIDE Rocco Water Based is also perfect for those occasions when you need to clean up quickly; just wipe away and go. This water-based lube has been thoughtfully formulated with gay men in mind as its pH level comes in at 6.0, which is ideal for anal play because it mimics the pH level of the bottom's rectal ecosystem.
The second offering in the collection is RIDE Rocco Silicone. This premium blend of medical-grade silicones is ideal for all types of erotic encounters, from sensual massage to safe and comfortable anal sex. RIDE Rocco Silicone is thin and sheer in consistency, offering that silky, barely-there feeling, while also being long-lasting. This combination of silicone is also 100% waterproof, making it the perfect choice for water play. Rocco points out, "this particular blend of Silicone is sure to become the gold standard of lubricant for many of my fans because it does exactly what its intended to do, make sex more enjoyable and memorable while keeping up with the action. You won't need to stop the fun to reapply over and over again, and that's important to me."
Rocco can now add lubes to his portfolio of successful ventures, which also includes underwear and sex toys. "As a member of the gay community, and someone that has been a fan of his for quite some time, I was very familiar with Rocco's film work and other product lines," says Erik Vasquez, Marketing Director for Sliquid. "Rocco is a solidified legend in gay pop culture, so being able to work with him on this collaboration has been an exciting experience. He is very in tune with his persona and extremely insightful when it comes to the industry, which made working on the creative process with him an absolute pleasure."
To prepare for the launch of the collection, Rocco visited the lube manufacturer's Dallas headquarters. During his visit, he and the Sliquid marketing team went to work creating the aesthetic in which they intended to present the new collection to the public. The idea came down to keeping it straight forward, but with an edge. With Rocco on set, the team went to work shooting photo and video content that highlights the two stars of this launch, the premium lube and the superstar persona behind it. Leather, neon lighting, and plenty of smoke machine work helped bring the imagery of the RIDE Rocco Collection to life in gritty detail that will appeal to a broad gay male customer base who enjoy Rocco Steele's prolific film work.
RIDE Rocco Water Based and RIDE Rocco Silicone benefited from a soft launch during January's ANME Founders Show in Burbank California last month. "Leading the sales and merchandising initiatives for all that we offer allows me the opportunity to get behind the latest and greatest, and there is truly nothing more exciting and rewarding than to be able to help represent a brand-new product launch," says Michelle Marcus, VP of Sales and Merchandising for Sliquid. "From the moment our distribution and retail partners caught a glimpse during the show, I already knew we struck gold with this incredible collaboration between our RIDE brand and one of the biggest names in the adult industry, Rocco Steele. The reception has been overwhelming, to say the least, with interest from around the globe, and dedicated placement already in place within the US." Marcus adds, "Personally, I am super enthusiastic about the endless opportunities RIDE Rocco offers to the mainstream consumer, and I cannot wait to see it explode beyond our collaborative expectations!"
When speaking of the successful debut of Sliquid's newest product line, Elliott notes, "The creation on the RIDE Rocco Collection has truly been a team effort with input from so many talented individuals. From the early development stages to getting this lube onto shelves across the world, my amazing marketing, sales, operations, and warehouse teams have all worked tirelessly to make sure that this collection is ready for its close up, and I think they have all done a magnificent job. It's been a labor of love for the LGBTQ community, and this is just the beginning. I see great success ahead for our collaboration with Rocco."
RIDE Rocco Water Based and RIDE Rocco Silicone are both currently available in 4.2oz and 8.5oz bottles. The packaging is distinctly reminiscent of the RIDE BodyWorx collection but with Rocco's instantaneously recognizable image printed directly on the front of the label. The full RIDE Rocco Collection is now available for retail purchase at Sliquid.com, RideLube.com, RideRocco.com, and RoccoSteeleOfficial.com. For wholesale information, please email Sales@Sliquid.com, or contact your preferred distributor to check availability.