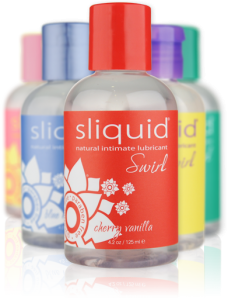 BetterSexEd.org reviewed some of the Sliquid Swirl flavored lubricants. Check out their review below.
The last time we tried flavored lube we thought anything would be better than the sticky nasty tasting stuff we had just put in our mouths. So, thank you, Sliquid, this is a huge improvement!

We tested out 3 flavors as part of their Swirl series*:

Cherry Vanilla: can you call a flavored lube fresh tasting? This one was. It was a bit like cream soda, it had a mild vanilla flavor, and was the most natural flavor against the skin. Our favorite out of the 3.

Green Apple: also had a mild flavor, sweet but not too sweet, and slightly tangy.

Blue Raspberry: the most "fake" tasting of the 3, still not bad though.
read the rest of the review at http://BetterSexEd.org