Dallas, TX – Sliquid is pleased to announce two members of its executive team have received individual nominations for the 2022 XBIZ Exec Awards.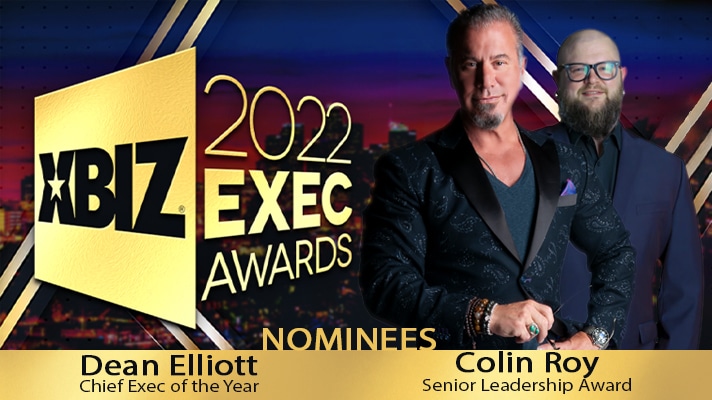 The XBIZ Exec Awards spotlight outstanding business leaders who play key roles in the success of progressive brands. Sliquid's two nominations include Colin Roy for the "Senior Leadership Award," and company owner Dean Elliott for "Chief Exec of the Year".
"Holy smokes, I am truly honored to receive this nomination…especially this year," said Elliott, Sliquid founder, and CEO. "We've had to overcome many struggles with supply chain, filling, and nationwide transportation. We spent several months with unusually low product levels, but we kept our staff in place and the lights on!"
Elliott goes on to say, "A huge thank you to my dedicated team, our wonderful distribution partners, fabulous retailers, industry family, and the amazing folks XBIZ! I also congratulate my Senior VP, Colin Roy, who is nominated for Senior Leadership."
This is Dean's first nomination for "Chief Exec of the Year". He has previously been recognized with several XBIZ Exec Awards nods, including being named the 2016 XBIZ Exec Awards "Businessman of the Year".
Colin Roy is senior vice president of Sliquid. Having been with the company for 16 years, Roy started with Sliquid in its infancy as a freelance web designer, eventually working his way up the ladder to Creative Director. He was promoted to Senior Vice President in 2015. This is Colin's seventh time being nominated in the Senior Leadership category.
Of this 2022 nomination, Roy says, "It's been a challenging year for all of us, making this year's nomination for this prestigious award extra special. It's great to be recognized alongside many of my fellow colleagues across the pleasure products industry. You know what they say…seventh times the charm. I have my fingers crossed!"
The annual XBIZ Exec Awards honor the best of the best from the adult business community for their outstanding creativity and leadership, celebrating exceptional career achievements across a wide variety of prominent industry roles. Nominees are selected based on a range of success factors including business acumen, community standing and overall leadership.
The 2022 XBIZ Exec Awards, presented by Satisfyer, will be presented as part of the annual XBIZ Honors ceremony on Tuesday, Jan. 11 at the W Hollywood Hotel.
Voting for the 2022 XBIZ Exec Awards begins today on XBIZ.net and continues through Tuesday, Nov. 23.
——
To learn more about Sliquid visit sliquid.com. Follow Sliquid through social media on Twitter and Instagram @Sliquid, on Facebook www.facebook.com/sliquid, and on YouTube www.youtube.com/user/sliquidintimate.