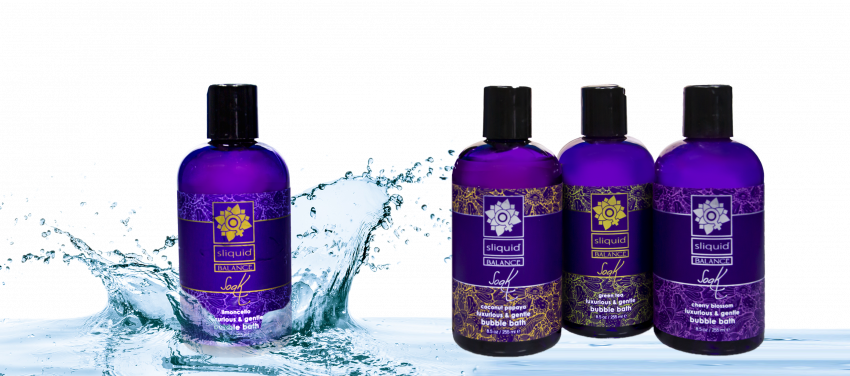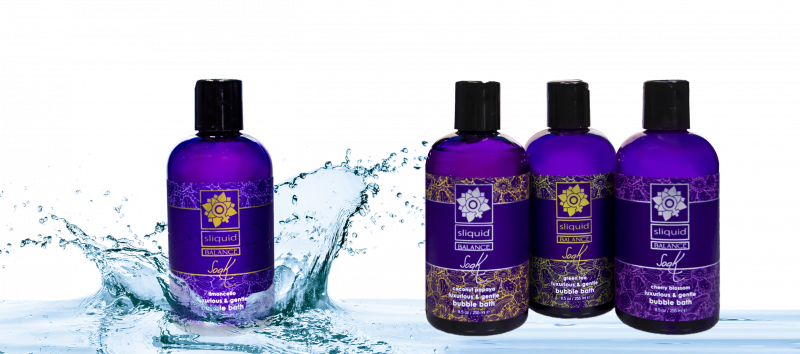 FOR IMMEDIATE RELEASE: — August 17, 2018 — Dallas TX — Top natural intimates manufacturer, Sliquid (www.sliquid.com) is pleased to introduce their first Bubble Bath, 'SOAK' , available in Cherry Blossom and Limoncello.
Sliquid Soak is a luxurious, all-natural bubble bath. Soak allows you to immerse your senses in this aromatic, foaming bath soak that is both soothing to the skin and gentle on the most intimate areas. Formulated without any of the harsh chemicals typically associated with bath products, the ingredients in Soak offer a relaxing experience that will transport your mind to the center of a Japanese garden filled with Cherry Blossom trees, or a lemon field in picturesque Southern Italy.
"We have been so excited to hear the overwhelmingly positive response from everyone about 'SOAK'. We feel that this addition is essential to add to the Balance Collection of Sliquid products. We have spent a lot of time finding the correct blend of all-natural ingredients to offer the most relaxing and authentic in-home spa experience." said Dean Elliott, Sliquid CEO.
SOAK is infused with natural sea salt, mango and shea butters, and decadent cherry blossom and lemon essential oils that create two distinct experiences. Cherry Blossom relaxes the body with floral notes, while Limoncello invigorates the senses with the bright scent of lemon. Soak is free of propylene glycol, glycerol, glycerine, parabens, and is Vegan-friendly with 100% Recyclable packaging, and is made in the U.S.A.
"Here at Sliquid we spend a ton of time on R&D for new product launches specific to the most sensitive user, because that's truly what we're all about. I'm so excited we now offer 'SOAK' and in two sensational aromas! Aside from the incredible benefits found in these luscious bath Soaks, they literally immerse your body, mind and soul into heavenly bliss. No time for the spa? No problem! 'SOAK' hand-delivers the spa experience to you!" said Michelle Marcus, VP of Sales and Merchandising. " PS – your spoiled fur babies will love Soak too – Daphne!"
Soak by Sliquid is now available to ship to distribution and retail partners. Retailers and customers with questions, or who would like to place an order, may email their Sliquid sales representative or sales@sliquid.com. Soak is also available on Sliquid's website at https://sliquid.com/shop/the-balance-collection/sliquid-soak/.
Follow Sliquid through social media on Twitter @Sliquid, on Instagram @_Sliquid, on Facebook www.facebook.com/sliquid.