Looking for a super unique and thoughtful gift? Sliquid has got you covered this gift-giving season! Look through this holiday gift guide for some inspiration on some wet and wild, or thoughtful and mild gifts for those you love.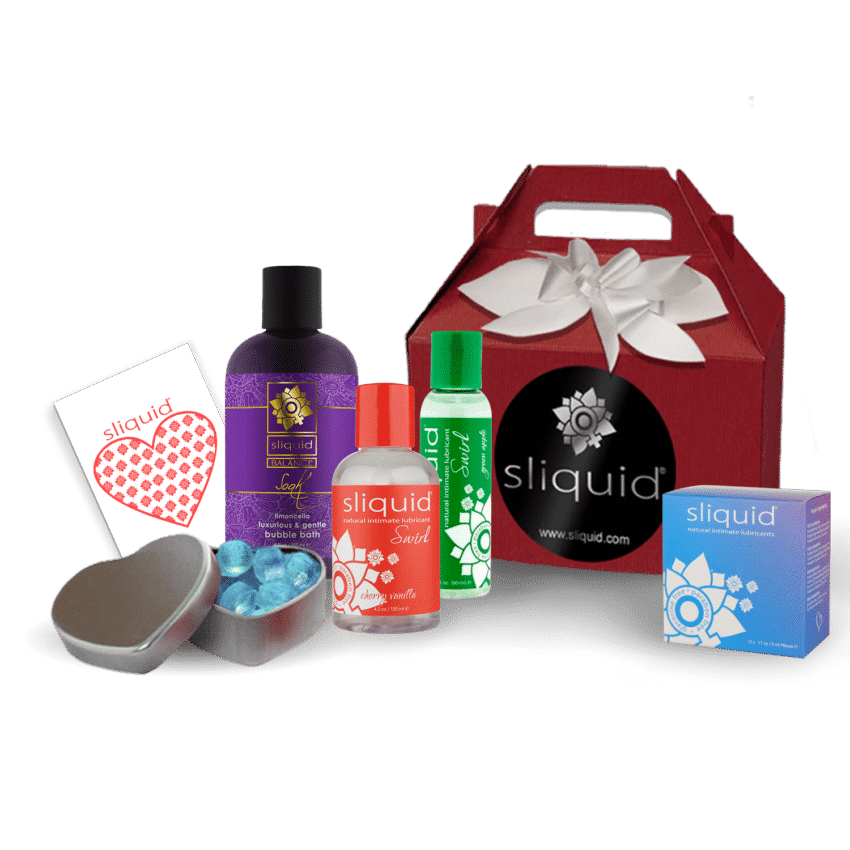 Keep things nice and sweet with Sliquid's Sweet Indulgence bundle. This bundle includes some sweet and flavorful products that would brighten up anyone's holiday! It contains Soak Limoncello to help you unwind in a warm, yummy bubble bath, Swirl Green Apple & Cherry Vanilla lubricants to give you and your lover a pH-balance sweet tooth, and the Naturals Lube Cube with single-use packets to help you test out a variety of the products before you find the one you love!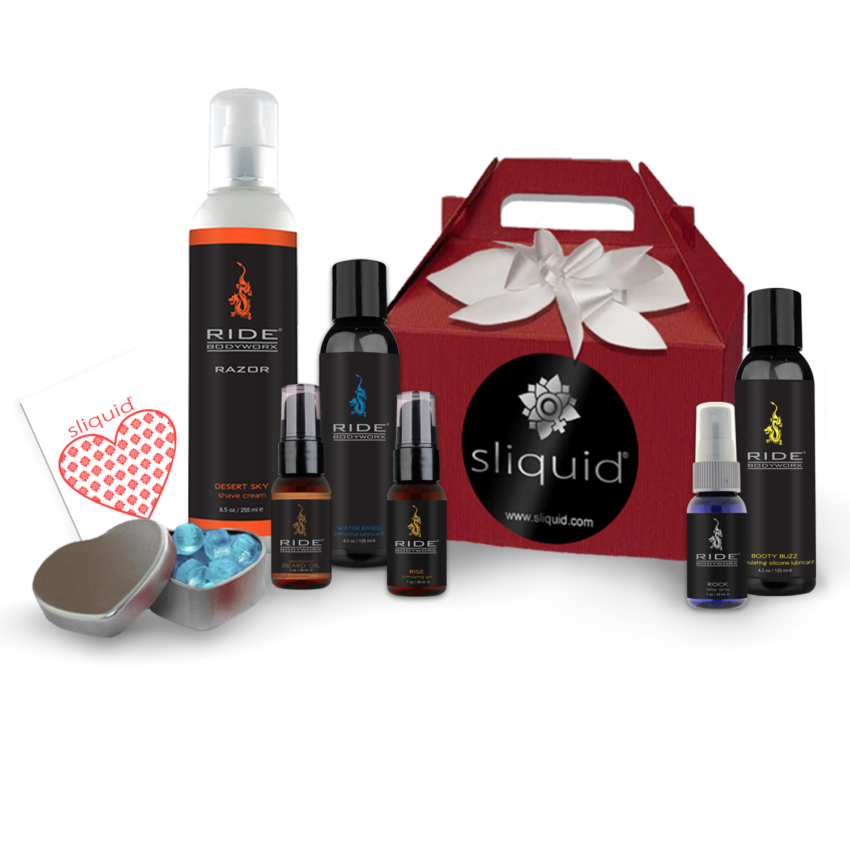 Give the guy in your life something that will keep it going all night long with the Seduce Him bundle! This bundle includes many products for men or masculine-identified people who enjoy intimate luxury. Some of the products in this bundle are the Ride Rock Delay Spray and the Ride Rise Stimulating Spray – to help keep things spicy on those long, cold winter nights! It also includes the Ride Razor Shaving Cream and the Ride Beard Oil in Sandalwood to help keep your body smooth and your beard soft! Finally, it comes with Ride Booty Buzz, a silicone lubricant, and Ride Water Based for all types of penetration. It's a gift that truly keeps on giving.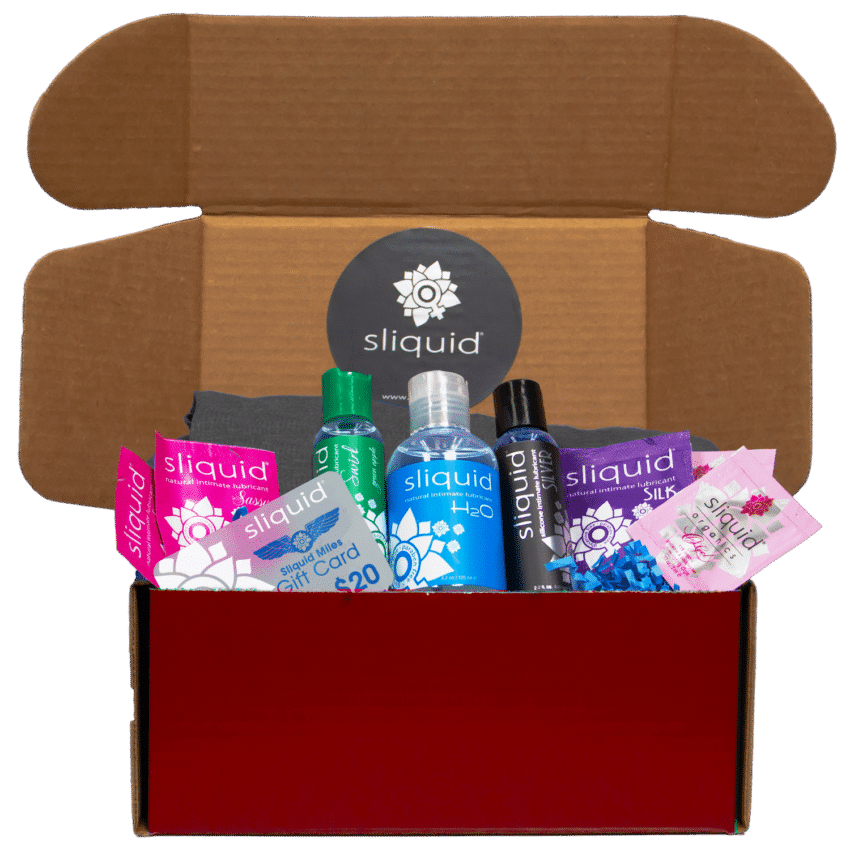 Trying to get a gift for someone who might be a little picky? Not sure about their style? Gift them the Big Red Box! This bundle includes a little bit of everything, featuring some of Sliquid's most popular lubricants in sizes that are perfect for testing the waters! The bundle includes Sliquid Silver and H20 a silicone and water-based lubricant, respectively, Swirl Green Apple for those who want to taste their pleasure, and 2 sample sizes of Sliquid Naturals Silk, Sassy, and the Organic O Gel to help experiment with sensations! It also includes a Sliquid-branded tee and a $20 gift card (redeemable on Sliquid.com) for when they find the lube that is just for them!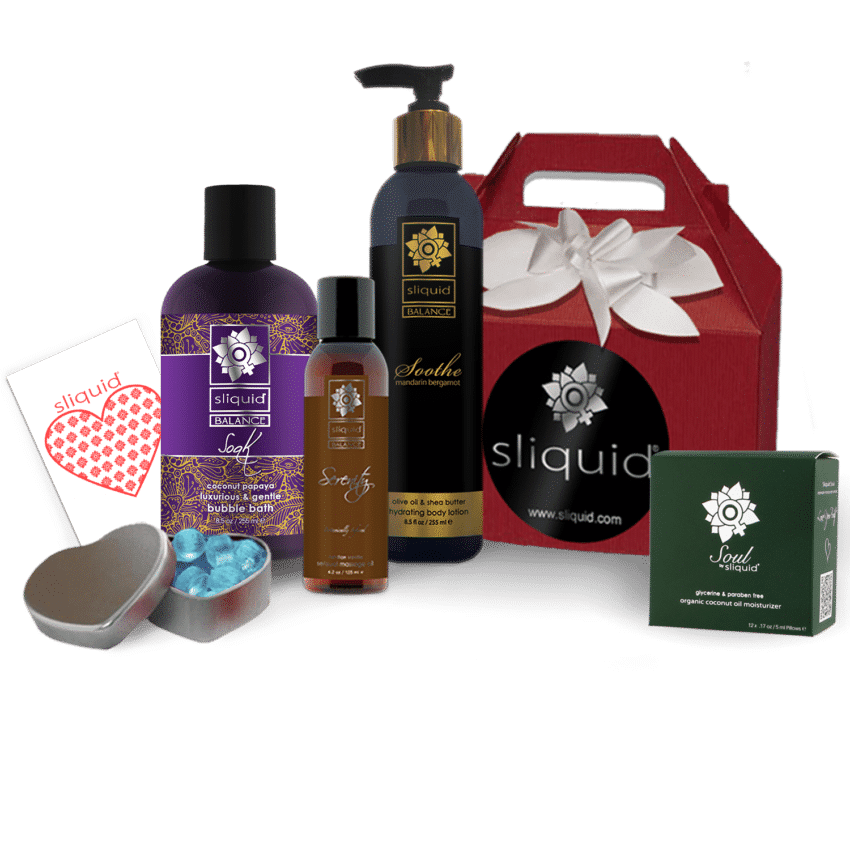 Have someone in your life who might be more about their self-care? Gift them the Perfectly Pampered Bundle! This bundle is for those who take luxurious self-care seriously and want only the best of the best for their body! This bundle includes Sliquid Soak in Coconut Papaya for some calming and lovely suds in the tub, Sliquid Soothe in Mango Bergamot – a lotion to pamper and hydrate the skin after a lovely soak, the Serenity Massage Oil in Tahitian Vanilla for some self-love or partnered love, and a Soul Cube of Organic Coconut Moisturizer to also add some hydration for the skin! This gift is might be better than a certificate to the spa (and cheaper too)!


Looking for a gift to showcase your loved one's favorite lube brand? Gifting a more conservative family member? Looking to add to your loved one's collection of shirts, hoodies, or caps? Sliquid has got just that for you! Sliquid has a variety of colors, styles, and even collection options of t-shirts, hoodies, and hats for you or your loved one this holiday season! They're fun, stylish, and a great way to advertise and start convos with your community about your favorite lube brand!
As always lovelies, be thoughtful, romantic, or spicy this holiday season with one of the many awesome gift bundles for yourself or your loved ones this year! Sliquid has a variety of great products to choose from that will not disappoint and will keep you or your loved ones coming back for more! As always lovelies – Heaux responsibly and Happy Holidays!
Note: Gift sets are excluded from the Sliquid.com holiday sale.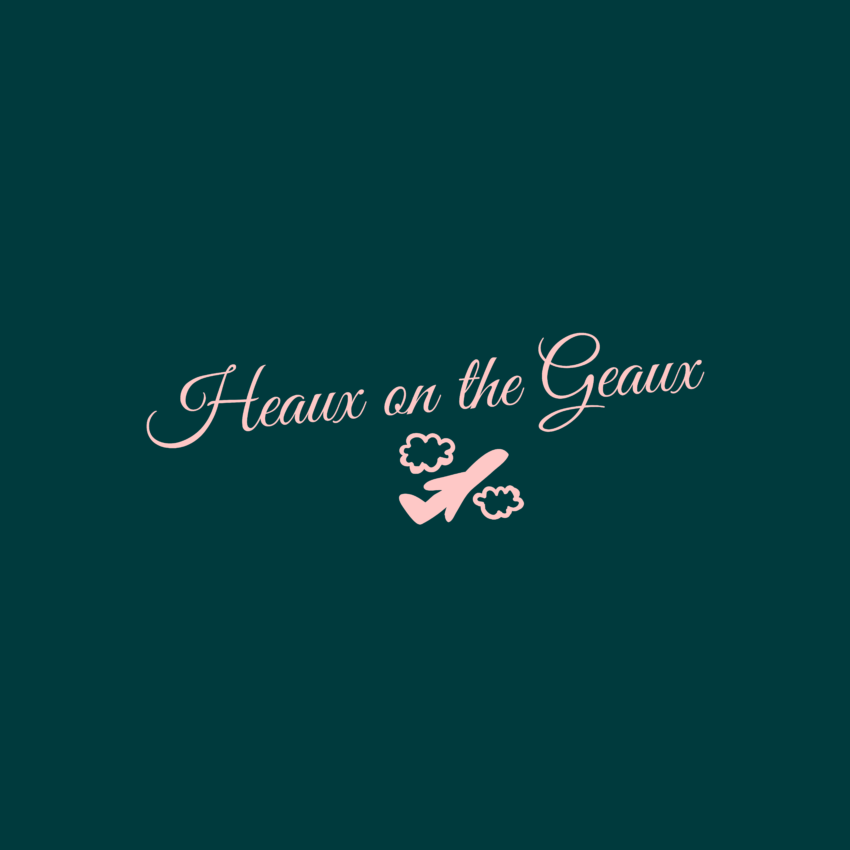 About The Author
"Saniyyah (They/Them/Saniyyah) aka @HeauxOnTheGeaux is a Community Sexual Health Educator, Pleasure Activist, Heaux Mentor, Abortion Doula & Sex Toy Reviewer. They strive to create easy & accessible, free sex education for folks in the Black and brown communities – prioritizing liberation, decolonization & harm reduction. Saniyyah's goal in their work is to create a world in which sex & shame no longer co-exist; a world in which speaking freely about sex & pleasure are no longer taboo; and as a non-binary, queer, polyamorous person, Saniyyah also emphasizes uplifting & highlighting those in their marginalized communities"