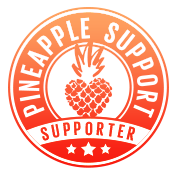 Pineapple Support
Pineapple Support Society is a free support and therapy service for all persons working in the online adult industry – no matter their gender, ethnic origin, social status, age or sexual orientation. We have an ever growing team of sex-worker friendly, kink-aware therapists who offer face-to-face and online video therapy sessions. We operate 24/7, and we raise funds to help with the costs of professional coaching, counselling and therapy for those who need it.
Why Pineapple….?
The answer to that is simple, pineapple is the most commonly used safe-word in the US (after stop and red … but they would have made terrible names) and that's what we are, your safe word.
When Pineapple?
Pineapple Support Society is the brainchild of Leya Tanit, a British performer, who originally had the idea after attending the XBIZ and AVN award shows in January 2018. Deeply affected by the news of the many lives lost to suicide during the previous few months, Leya decided it was time to take action, it was time to make a change. Pineapple Support was born.
Together with the help of Pineapple's Directors, Volunteers, Ambassadors, Therapists, Counsellors and board of Chairs, Pineapple Support is rapidly growing from strength to strength.
https://pineapplesupport.org/
Go Back