Ride BodyWorx – New, from Sliquid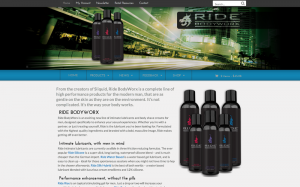 Simple, Safe, Sexy – that's Sliquid, and now the female friendly manufacturer has launched a new brand aimed at men. Formerly Ride Dude Lube, with a more country twang, Ride BodyWorx is a newly branded, sleek collection of products focused on high performance.
The BodyWorx Collection is now available with 3 lubricant formulations, and two enhancement products. Drop by the new site, www.RideLube.com to get all the details.