Quality Assurance International recognizes Sliquid Organics Collection as a Certified Organic Product
FOR IMMEDIATE RELEASE
Contact: Sliquid – info@sliquid.com, (800) S L I Q U I D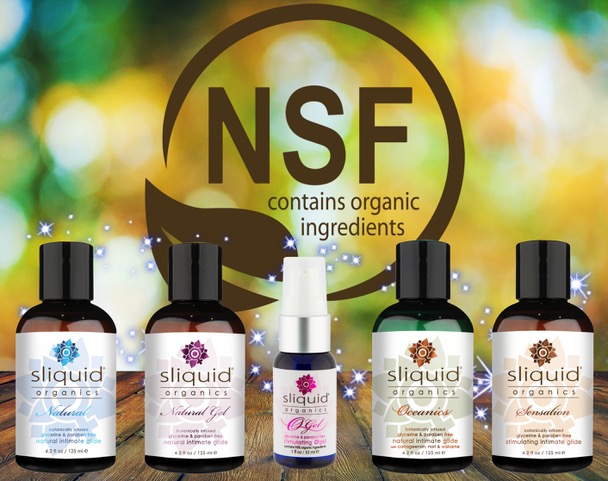 DALLAS, TX – September 22, 2017 – Sliquid, LLC, purveyors of industry acclaimed Sliquid Naturals, Organics, The Balance Collections and Ride BodyWorx, has been sanctioned Organic Certification by the NSF-accredited Quality Assurance International company. Recognized for their selection of the safest and most body conscious ingredients in the consumer marketplace, Sliquid announces the following (Sliquid) Organics Collection of products as NSF Certified Organic:
Sliquid Organics Natural Intimate Lubricant
Sliquid Organics Natural Gel Intimate Lubricant
Sliquid Organics O Gel Intimate Arousal Stimulant
Sliquid Organics Oceanics Intimate Lubricant
Sliquid Organics Sensation Intimate Lubricant
Sliquid Organics Shine Intimate Toy Cleaner
Sliquid's mission is to provide the cleanest, and most natural intimate products available to every consumer. In keeping with this mission, the newly Certified Sliquid Organics Collection contains ingredients that must be grown and handled without using conventional pesticides and other synthetic chemicals, genetically modified organisms (GMOs) or other banned practices. "While we have always used natural and organic ingredients in all of our formulations, we are very pleased to be able to say that our Sliquid Organics Collection meets the standards associated with producing the highest level of integrity corresponding with organic ingredients", says Dean Elliott, Founder, and CEO of Sliquid, LLC. As early as October 2017, the phasing-in of the new NSF-accredited products will begin with direct-to-consumer shipping, distribution channels, and retailers worldwide.
For product and/or ordering information, please email sales@sliquid.com or visit http://sliquid.com.
###
About NSF International, The Public Health and Safety Organization
Choosing a product certified by NSF lets you know the company complies with strict standards and procedures imposed by NSF. From extensive product testing and material analyses to unannounced plant inspections, every aspect of a product's development is thoroughly evaluated before it can earn our certification. Products that earn NSF certification are said to be "NSF certified" or "NSF listed" and display the applicable NSF certification mark to show that they have been tested by one of today's most respected independent product testing organizations. Manufacturers, regulators and consumers look to NSF International for the development of public health standards and certification programs that help protect the world's food, water, consumer products and environment. The NSF mission is to protect and improve global human health. As an independent, accredited organization, they develop standards, and test and certify products and systems.
About Sliquid, LLC
Sliquid was born, first as an idea, then as a reality. The company vows to always put the safety and comfort of the consumer first, regardless of cost, and never to formulate with sugars or petrochemicals. Today, the company boasts a product line of over 100 sku's across varying collections, all formulated vegan safe and pH body-friendly. Sliquid is formulated entirely sugar and sugar derivative free (glycerin), and with sparse amounts of only the safest ingredients, making it the cleanest, most natural lubricant on the market.