Dallas TX — Top, natural intimates' manufacturer Sliquid (www.sliquid.com) is pleased to announce their two nominations for the 2022 XBIZ Awards.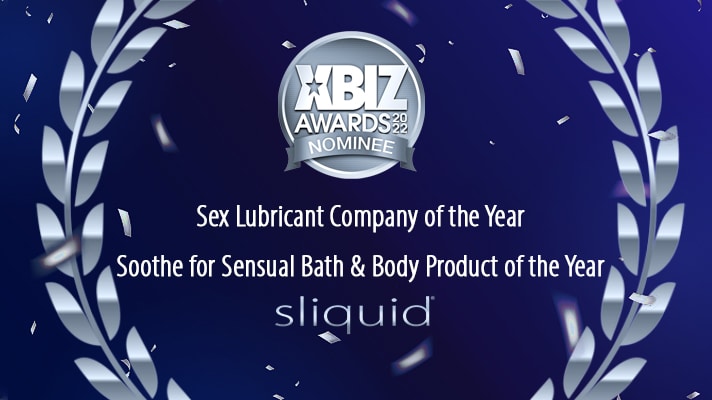 Sliquid, the Dallas-based manufacturer of high-quality, natural, and organic wellness products has snagged two XBIZ Awards nominations in the Pleasure Products category. One nomination is for "Sex Lubricant Company of the Year", with the other being for "Sensual Bath & Body Product of the Year" for their newly released hydrating body lotion, Sliquid Soothe.
Sliquid Soothe is described as a moisture-rich lotion that has been infused with natural mango and shea butters, olive oil, and other essential oils that "heal and support the body's largest and most vulnerable organ, our skin. This luxurious, non-greasy body lotion absorbs quickly, without residue, resulting in hydration that leaves your skin supple and smelling delicious."
"This is the perfect way to end our year on a high note," said Dean Elliott, founder, and CEO of Sliquid. "The past 12 months have proven to be a challenge, but we were able to successfully launch Soothe to great interest across the industry, as well as continue shipping Sliquid lubricants to our customers across the globe."
Founded in 2002, Sliquid is entering its twentieth year in business as an industry leader in the lubricant space. At its inception, Sliquid brought its flagship water-based glide, H2O, to market, quickly following up with a pure silicone formula called Sliquid Silver. Today, the company boasts an extensive product line of over 100 SKUs across varying collections, all formulated vegan-friendly and pH-balanced neutral.
Elliott also states, "We couldn't continue to be a successful brand without the dedication of the Sliquid team, our retail and distribution partners, and the love and support we get from our friends at XBIZ. We appreciate this honor and look forward to an exciting and, hopefully, successful awards ceremony. Good luck to all of our fellow nominees."
To learn more about Sliquid visit sliquid.com. Follow @Sliquid on Twitter and Instagram, on Facebook www.facebook.com/sliquid, and on YouTube www.youtube.com/user/sliquidintimate.