Princess Previews – Sliquid's Sassy & Sea Lubricants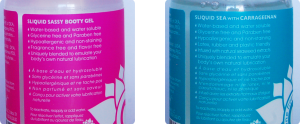 My two Sliquid lubricants, Sassy & Sea, are my go-to lubes that I currently use exclusively during my toy use and even sex. Sea provides a healthy, smooth vaginal lubricant, while Sassy is the perfect cushion for anal sex. Please, if you have been using off-the-shelf lubricant filled with parabens until now, look into and invest in some Sliquid, you won't be disappointed.
Lube can be easily overlooked. I always knew it was important for anal sex, but otherwise I didn't really see it as something I needed for a long time. If it wasn't for the fact I was given a free bottle of some Doc Johnson lube at a sex convention two years ago, I would have probably never bought some, or just used convenience store types. As soon as I started reading sex blogs however, it became apparent how important and valid it is. Not just any lube either, but good lube, and one word popped up on practically every website I visited, 'Sliquid'. I investigated, and now know that they stock what is largely considered the best and safest lubricant on the market. I soon decided from their large range what would suit me best, and promptly ordered my first two Sliquid lubricants, Sassy and Sea. I use lubricant heavily for my toys now, as most of them I would not be able to use without, vaginal or anal, and for sex too. After mentioning this on Tumblr though, I received a lot of asks on lubricant recommendations. So while there are many similar reviews out there on Sliquid, I wanted to give my own opinion on the products and how they work for me.