Dallas, TX — Top, natural intimates' manufacturer Sliquid (www.sliquid.com) is pleased to announce the release of a 2-ounce, 8.5-ounce, and .17-ounce option of their award-winning Sliquid Naturals Spark.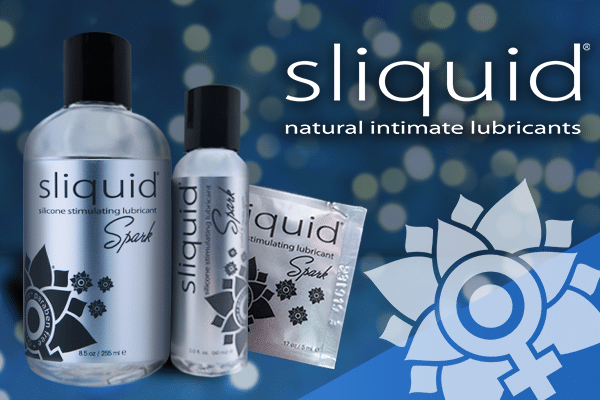 Sliquid Spark, which burst onto the market with much fanfare at last summer's ANME Founders Show in Burbank, now has three additional sizes to accompany its popular 4.2-ounce bottle.  Spark, which gets its name the heightened sensation it provides the user during intimacy, begins with Sliquid's wildly popular silicone formulation for Sliquid Silver and incorporates natural food-grade menthol into the mix. This addition of menthol provides a cooling effect upon application that begins to warm with friction.  Sliquid Spark offers the benefits of being 100% waterproof, ultra-slick, sheer, and long-lasting, with just the right amount of tingle to enhance all types of intimate encounters.
"Spark is not just your average stimulating lubricant," says Dean Elliott, Founder, and CEO of Sliquid.  "It's the reigning 2020 Sex Lubricant of the Year!"  Sex Lubricant of the Year, the title that Elliott is referring to, is one that Spark earned at the 2020 XBIZ Awards this past January.  Taking a trophy in the highly competitive Pleasure Products segment of the awards, Sliquid Spark was voted top new lubricant by industry peers and insiders.  And while the industry and customers certainly gave their stamp of approval and accolades to the performance of this new luxury lubricant, it was clear that there was a demand for a larger variety of sizes.
"In a year that can certainly use a 'spark,' especially with the holidays right around the corner, I love the idea of introducing a little bit of fun for sexy time and gift-giving," quipped Michelle Marcus, VP of Sales and Merchandising for Sliquid.  The new sizes of Sliquid Spark are debuting a month ahead of Black Friday and Cyber Monday, arguably the busiest and most profitable time for adult retailers, offering plenty of time to place orders before the holiday shopping season begins to pick up.
"The moment we debuted our newest award-winning, menthol-infused silicone formula, the response was overwhelming across the board, so it makes sense to offer it in our 8.5-ounce bottle for those that simply cannot get enough, and our 2-ounce bottle for those that prefer a more convenient travel-size, perfect for on-the-go," says Marcus.  "For those not quite ready to 'bottle up', we have also rolled out our one-time-use sample size pillows, which is very exciting too!  Creating an intimate bundle for the holidays is the perfect way to hint an 'I Love You' with a sexy twist on gift-giving, and what's not to love about that?!"

As with all other Sliquid products, Spark is 100% vegan-friendly and manufactured and bottled in the United States. With the addition of these new SKUS, Sliquid Spark is now available in 4 sizes, including the .17-ounce pillow packet size that is perfect for point-of-sale merchandising to encourage upselling with the purchase of toys and other intimacy items. All four SKUs, including the original 4.2-ounce bottle, are ready to ship direct from Sliquid, or via your preferred distributor. 
Elliott adds, "Our loyal customers had asked for a stimulating silicone product for what feels like forever. Last year was the perfect time for us to give them what they wanted so the team went to work on the formula and delivered a truly stellar product that has been embraced by the industry and customers alike. There are various types of lubricant users out there. Some use more. Some use less. Either way, Sliquid is happy to offer an ideal size to suit every one of our customer's needs."
For product and/or ordering information, please email sales@sliquid.com or visit sliquid.com.

To learn more about Sliquid visit sliquid.com. Follow Sliquid through social media on Twitter and Instagram @Sliquid, on Facebook www.facebook.com/sliquid, and on YouTube www.youtube.com/user/sliquidintimate.