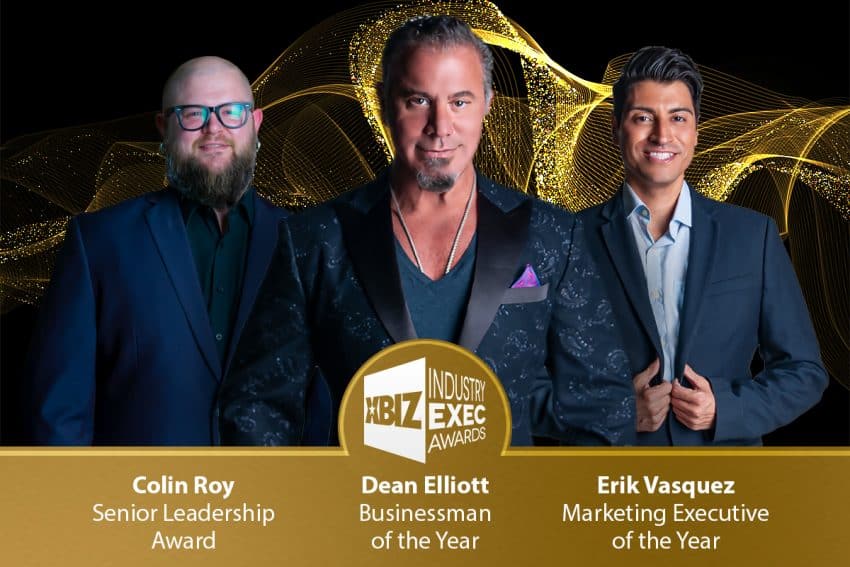 Dallas — Top natural intimates manufacturer Sliquid (www.sliquid.com) is pleased to announce that 3 members of their executive team have received individual nominations for the 2021 XBIZ Exec Awards.
The XBIZ Exec Awards spotlight outstanding business leaders who play key roles in the success of progressive brands. Sliquid's three nominations include Colin Roy for the "Senior Leadership Award," Erik Vasquez for "Marketing Executive of the Year," and company owner Dean Elliott for "Businessman of the Year."
"This is some much welcome news to bring this crazy year to a close," says Dean Elliott, Sliquid Founder and CEO.  "It's always an honor to be recognized alongside so many deserving industry leaders, including members of my own stellar executive team.  I want to also take this opportunity to say that I am very proud of my entire Sliquid family for pushing through the uncertainty of the past year to come out the other side strong and ready to take on 2021.  Thank you to our friends at XBIZ and good luck to all that are in the running."
Nominated for this year's Senior Leadership Award is Colin Roy, Senior Vice President of Sliquid. Having been with the company for over 15 years, Colin holds the distinct title of being Sliquid's first employee. Of his nomination, Colin says, "I am honored to be nominated among such an amazing group of people. Many thanks to my Sliquid team for making me look great! Also, a big thanks to XBIZ and everyone who submitted my name in this category. I appreciate the recognition."
Erik Vasquez is Sliquid's Marketing Director, overseeing all of the company's print, digital, and social media marketing efforts. Upon hearing the news that he is nominated for Marketing Executive of the Year, he said, "I am beyond honored to be nominated this year, especially among such talented folks in my category. I believe an executive is only as successful as the people that they lead, so I must give credit and thanks to my amazing, dedicated marketing team that works endlessly to pump out all the creative you see from Sliquid. Congrats to my fellow colleagues who are nominated and thank you to the wonderful staff at XBIZ."
XBIZ Exec Awards nominees were selected based on several factors including leadership, business acumen, community influence and overall career success as submitted by industry members via the adult industry social network XBIZ.net. The 2021 XBIZ Exec Awards, presented by Satisfyer, will be presented in January as part of the debut virtual edition of the XBIZ Honors ceremony.
Voting for the 2020 XBIZ Retail Exec Awards is now open. Industry members may cast their votes here.
For the complete list of nominees, click here. Visit the XBIZ Exec Awards website here.