FOR IMMEDIATE RELEASE: — August 24, 2023 — Dallas TX — Top, natural intimates manufacturer Sliquid (www.sliquid.com) is pleased to announce the release of a new Pride-edition lubricant, Sliquid Sparkle.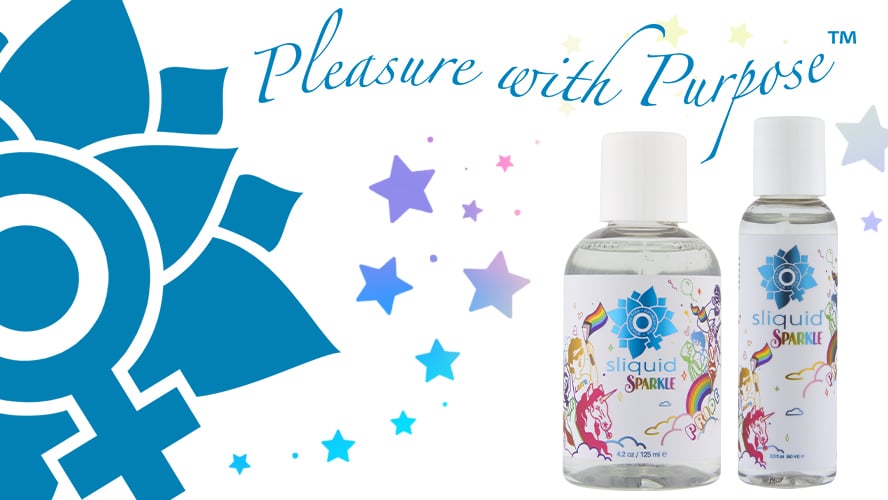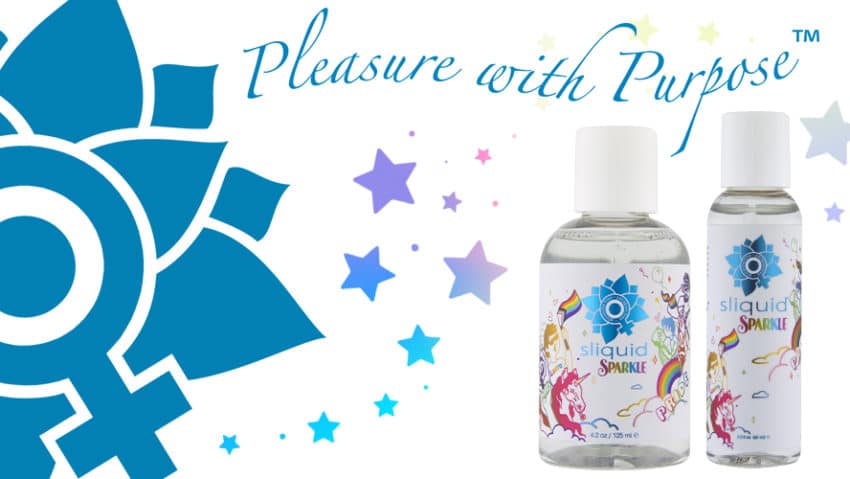 Sliquid Sparkle, the newest addition to the Sliquid Naturals collection, made its industry debut at the ANME show in Burbank, California, this past July. Sparkle, a re-packaging of the brand's flagship product, Sliquid H2O, is a superior water-based formula that uses only five ingredients.  This lubricant, comprised mostly of purified water, is unflavored, unscented, non-staining, pH balanced, vegan-friendly, and cruelty-free.
While the lubricant itself does not contain glittery flakes or shiny particles, Sparkle gets its fun name from the unique purpose behind the product. Sliquid, whose headquarters is in Dallas, will be donating a portion of the sale of every bottle of Sparkle to two North Texas non-profits that service the local LGBTQ+ community.
"The decision to donate a portion of the proceeds of this Pride-edition lubricant to two local organizations was the easiest part of this project," says Erik Vasquez, VP of Marketing for Sliquid.  "As a member of the Dallas LGBTQ+ community for over two decades, I know these two organizations very well, and have always been an advocate and champion of the work they do for a community that is near and dear to my heart."
The two non-profits that Sliquid has chosen as beneficiaries are Resource Center and Legacy Cares.  Established in 1983, at the height of the AIDS epidemic, Resource Center pursues societal equity by proudly offering LGBTQIA+ (lesbian, gay, bisexual, transgender, queer/questioning, intersex, asexual, plus) affirming resources designed to improve health and wellness, strengthen families and communities, and provide transformative education and advocacy. For over 25 years, Legacy Cares, formerly Legacy Counseling Center, has been providing quality mental healthcare, substance abuse treatment, and special care housing services for people challenged with HIV and AIDS.
Though Sparkle is marketed as a Pride-edition lubricant, it will be available to the public year-round. Similarly, the donations to these two non-profits will also be ongoing. Pride is something that Sliquid considers to be a constant movement, not relegated to a specific month or time of year.
"Packaging is as important as the product itself," say's Vasquez. "The stark white label and bottle cap for Sparkle is a departure from the customary Sliquid packaging for which the brand has become known." Sliquid has crafted a unique retail identity for its products with its bold, color-coded labels specific to individual formulas. "In the case of Sparkle, the marketing team decided to take the opposite approach, instead opting for a bright white cap and white label with metallic rainbow accents. This absence of a bold, prominent color helps to set this special edition lubricant apart from our other well-known formulas, making it pop when merchandised among the Sliquid product range."
The colorlessness of the label, while playing an important part in the overall branding for Sparkle, is mostly a vehicle for the messaging that is printed on it. On the label, customers will find a whimsical artist drawing that includes queer imagery, such as a unicorn, leather daddy, the new inclusive Pride flag, and various gender non-specific people. There are also important keywords used within the drawing, including LGBTQ, rights, and love. Turning to the back of the bottle, you will find the words "Pleasure With Purpose™", which is the newly trademarked tagline for Sliquid Sparkle. The tagline was created by Sliquid VP of Marketing, Erik Vasquez, to convey the larger purpose and mission behind the product and the company.

"We are proud to say that, at any given time, roughly half of our workforce identify as LGBTQ+," says Sliquid founder and CEO, Dean Elliott. "Diversity and inclusivity are the bare minimum a company can do. Without action both are merely performative so, when the marketing team pitched me the idea of this Pride-edition product and its fundraising purpose, it made me proud to have a team that uses their creative gifts to help Sliquid give back to their community."
The messaging that Sliquid has prominently transcribed on the Sparkle label perfectly encompasses the idea behind the product. "People, like pleasure, exist on a beautiful spectrum. Whether you are part of the rainbow community or an ally, this lubricant is for you." Sliquid Sparkle is now available in 2.0 and 4.2-ounce options. Retailers can access Sparkle via a select number of distribution partners, which include Entrenue, Honey's Place, Nalpac, and Ultra Love. MSRP for Sparkle 2.0 and 4.2-ounce is $10 and $14, respectively. For marketing assets related to Sparkle, please email marketing@sliquid.com.
——
To learn more about Sliquid visit sliquid.com. Follow Sliquid through social media on Twitter and Instagram @Sliquid, on Facebook at facebook.com/sliquid, and on YouTube at youtube.com/user/sliquidintimate.