Media Contact: Erik Vasquez, Marketing Director, erik@sliquid.com, (800) SLIQUID ext. 203

FOR IMMEDIATE RELEASE: — January 24, 2020 — Dallas TX — Top natural intimates manufacturer Sliquid (www.sliquid.com) is pleased to announce the launch of Buck Angel's T-Collection.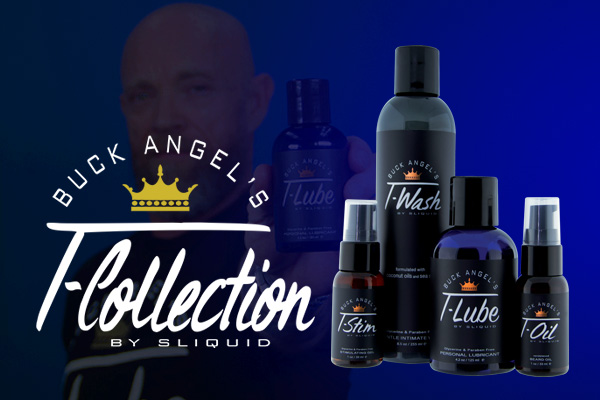 Sliquid, who partnered with trans-activist Buck Angel to create T-Lube, their ground-breaking FTM-focused lubricant, is expanding their collaboration to include three new products. The addition of these products will help to form a 4-product "collection" that takes a more comprehensive approach to the various sexual wellness and grooming needs of trans men. The new products that will be joining T-Lube to create the T-Collection are Buck Angel's T-Wash, T-Oil, and T-Stim.
"Fully understanding the importance of T-Lube, we watched with excitement and appreciation as the industry and members of the trans community received and began to champion the product. Not just because of its effectiveness in solving a common FTM issue, but because there was finally a lubricant on the market that was specifically geared toward the trans community," says Dean Elliott, Founder and CEO of Sliquid.
"Listening to the feedback we were getting from our retailers and users of T-Lube, we began to realize that the trans community was still lacking options when it came to other health and grooming needs. As with T-Lube, we delved into issues that Buck himself has experienced in his transition as a source of inspiration. With Buck by our side, we began to develop products that would effectively address common occurrences that take place with the body during the transition process."
Buck Angel's T-Wash is a pH balanced, gentle cleanser that is formulated with natural sea salt, coconut oil derivatives, botanical extracts, and has been infused with the masculine-presenting scents of sandalwood, musk, and black pepper. In addition to a body wash, the T-Collection is offering a second grooming product that address trans men's facial hair. Buck Angel's T-Oil is a hand-crafted blend of natural nut and seed oils that soften, smooth and shine any trans man's beard, or any other body hair for that matter. Infused with the woodsy scent of Sandalwood, T-Oil also contains antioxidant-rich Vitamin E to help hydrate and condition the skin underlying the beard hair, preventing flaking and itching.
Joining T-Lube in the sexual health category of the collection is Buck Angel's T-Stim. Specifically created with the genital wellness of trans men in mind, T-Stim is formulated with high-quality natural ingredients. Infused with food-grade Peppermint Oil and Menthol, these naturally derived vasodilators help draw blood flow to the surface, increasing arousal and stimulation.
"As more and more companies begin to acknowledge the role of trans men as valuable customers, I am proud to say that my partnership with Sliquid has put us both on the forefront of getting highly important trans-focused products into the hands of my community," says Buck Angel, the man behind the name and story of the collection." Every new product that makes up my T-Collection was thoughtfully crafted with the FTM transition process in mind."
Buck Angel's T-Collection was debuted last week, in Burbank, CA, at the ANME Founders Show. The response to the new product line was overwhelmingly positive, with many retailers excited to represent the full collection. Buck was present with the Sliquid team at their booth for both days, on hand to provide information about each individual product, but also to provide attendees with his story and why the partnership with Sliquid is so important to the trans community at large.
Of his partnership with Buck, Elliott says, "Buck is one of my best friends, and like a true brother to me. We at Sliquid are huge supporters of all transgender persons, so we are honored to be part of Buck's story and help bring awareness to the needs of this beautiful community.
The new items are packaged in sleek dark bottles with matte black labels. Buck Angel's T-Wash comes in an 8.5 oz option, while T-Oil and T-Stim are offered in 1 oz bottles.
Buck Angel's T-Wash, T-Lube, T-Oil, and T-Stim is now available at Sliquid.com and RideLube.com. For wholesale information, please email Sales@Sliquid.com, or contact your preferred distributor to check availability.