Spooky season is here and while there are some frights, haunts, and scares – your sexual exploration doesn't have to be one of them! That's right – we're diving into what might be scary to some, but the fantasy of others: threesomes, group sex, and play/sex parties! It's safe to say that most people have been curious about threesomes, group sex, or play/sex parties at one time or another. Usually, curiosity doesn't manifest into discovery because there aren't a lot of guidelines or rules to help guide people along this journey. We're here to share some tips and guidelines for approaching threesomes, group sex, and play/sex parties that will hopefully help in creating a positive experience for you.
Threesomes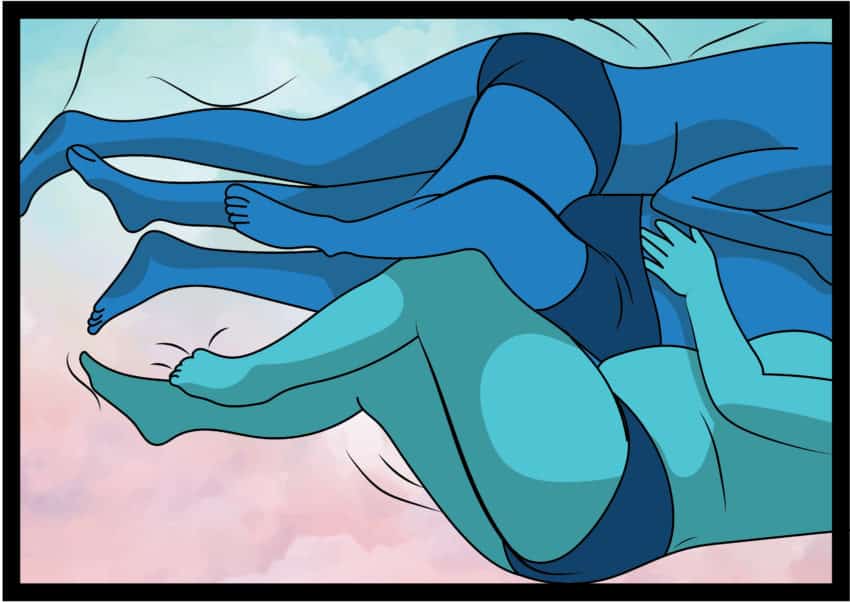 Before we dive in, let's get the basics out of the way. What is a threesome? According to Healthline, a threesome is a sexual activity between three people. And the cool thing about that is – it isn't just the physical activity that counts as a threesome. It can be sexy text chat, video chat, or any other sexually intimate act really! So how does a sexy adventure go from one person to three people?
Communication
If you are someone in a relationship with another person(s), the first thing you should do is openly and honestly share what your thoughts and feelings are about threesomes. Here are some ways to bring this conversation up with your partner:
"Have you ever had a threesome fantasy?" "Have you ever thought about threesomes?"
"I have been thinking about what it might be like to add another person into the bedroom. How do you feel about that?"
"I had a sexy dream with you and another person? Have you ever had a dream like that?"
Consent
This is one of the most important guidelines to think of when considering a threesome. Are you comfortable and consenting to this without feeling pressured? Are your partner and the other person involved comfortable and consenting to this without feeling pressured? This is also a friendly reminder that consent is fluid and can change anytime before, during, or even after. People's minds are allowed to change at any time.
Establish Boundaries
If you are a couple, or even single, inviting an outside person into your bedroom, make sure you both have a conversation and mutual understanding of your relationship and its stability. NEVER HAVE A THREESOME TO 'FIX' A PROBLEM IN A RELATIONSHIP! It's not healthy and makes it uncomfortable for everyone involved. With that being said, establish the boundaries you or your partner might have and need between the two of you and then again when you have the conversation with everyone involved in the threesome. This should include sexual yeses and nos, sexual safety and wellness practices, and this is also a great time to get comfortable and a little more intimate with one another.
Spread the Love
If you are a couple in the threesome scenario be sure to not make the threesome all about just you two. On the other hand, if you are a single person playing with a couple, you need to be sure to pay equal attention to the other two people in the play session. If possible, make sure you try your best to spread the love and attention equally. Mindfulness and awareness can be a lot when having sex with one person, let alone two people. Check in with one another, and allow for natural vibes between certain parties to happen; this is a sexual exploration situation for everyone and it is normal for feelings of jealousy to sometimes pop up.
Aftercare
Aftercare is post-sex rituals that are done to support and create intimacy and empathy with your partner(s) after you have participated in sexual acts. As I mentioned before, threesomes can be overwhelming physically, mentally, and emotionally; use aftercare as a time to debrief what you experienced, felt, and how you felt. Cuddle, eat, hydrate, or watch a movie with your partners for a little post-threesome bonding time. I said bonding…not bondage! These are all great examples of aftercare.
Group Sex & Play / Sex Parties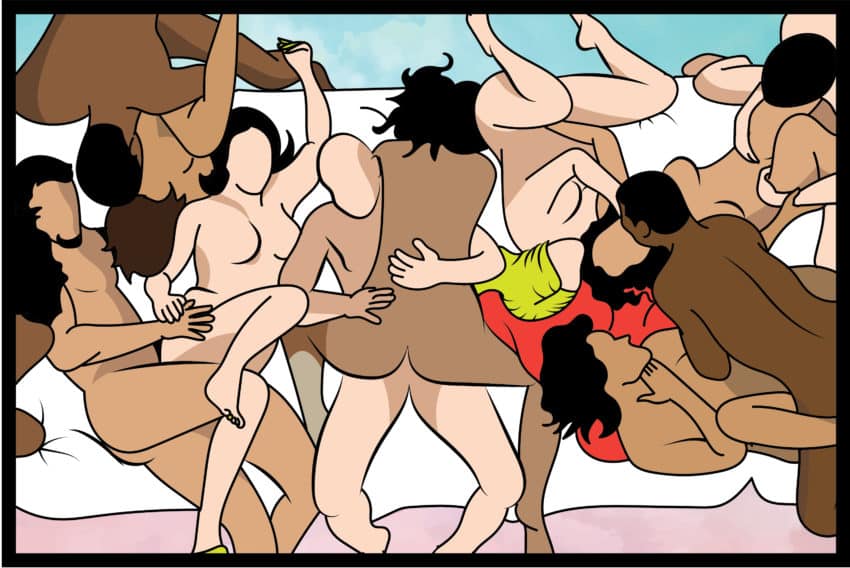 Much like having a threesome, the approach to group sex and play/sex parties are pretty much the same, with a few nuanced specifics to these two types of sex experiences. Before we dive in, what is group sex? Group sex is sexual activity that happens between more than 3 adults simultaneously, not necessarily with everyone having sex with each other. This is not to be confused with an orgy which specifically includes drinking and 'debauchery' and people having sex with everyone all at once; often seen in ancient Greek and Roman times of celebration and excess. A play or sex party, according to Women's Health Magazine, is "a group of consenting adults getting together to have sex." Play and sex are used interchangeably throughout the community but mean the same thing. Anyone can attend these. Some are open to the public, meaning that you can purchase a ticket as a single person or a couple. Some are invite-only and have specific rules and boundaries around who can be invited to play.
As always, the first things you want to establish before attending and participating are communication, consent, and boundaries. These are crucial to making sure you have an ethical, safe, and fun time. Now let's get into some specifics:
What are the play / party rules?
Find out what the house rules are of the club, party, or group sex environment. For instance, is it a wet or dry event? Meaning, is alcohol served and/or allowed? The same goes for smoking…of any kind! <wink, wink> Who is allowed to attend? Is it specified for singles or couples? Gender-specific? Is it sexual orientation specific? Nothing is more awkward than showing up to a place you're not supposed to be. That being said, this happens sometimes…and it's okay!
B.Y.O.S. (Bring Your Own Supplies)
While most of these environments provide things like towels, lubes, and condoms – it's always a great idea to bring your own. First, supplies are shared between everyone at the party. Second, you might have allergies or not like the brands and materials provided. For these reasons, it never hurts to have your own supplies. Toys and sex gear are sometimes brought by the hosts or other attendees but they aren't necessarily for everyone to share. If you want to spice up your playtime, you can always ask to try what is at the party but still bring your own favorites to ensure you have fun without having to ask someone else for supplies and/or toys.
Privacy, Boundaries & Voyeurism
What happens at a play party and group sex space stays at the play party and group sex space! Consent is always key, and so is privacy. Absolutely no phones, pictures, or videos are allowed to be used during the time of play and when in the play areas. This could also be a different case depending on what you all agree to, but that goes back to boundaries and what is discussed prior to the party happening. Not feeling like participating in the action physically? Rather watch? That's totally fine too… WITH CONSENT ALWAYS! Some people might not feel comfortable having sex with others around but maybe you are curious and want to just watch – that is totally okay! Make sure you always get consent before watching and touching anyone.
These guidelines and etiquette advice might not apply to all scenarios. However, they are great starting points to help support and ease any anxieties or lingering questions you might have about how to approach threesomes, group sex, and play/sex parties. They can seem really intimidating, but I guarantee you, even long-time participants in the game were also once nervous or a little lost on where to start. This is your friendly reminder to always be open, to know yourself and your boundaries, and to continue exploring your sexuality. Until next time #HeauxResponsibly.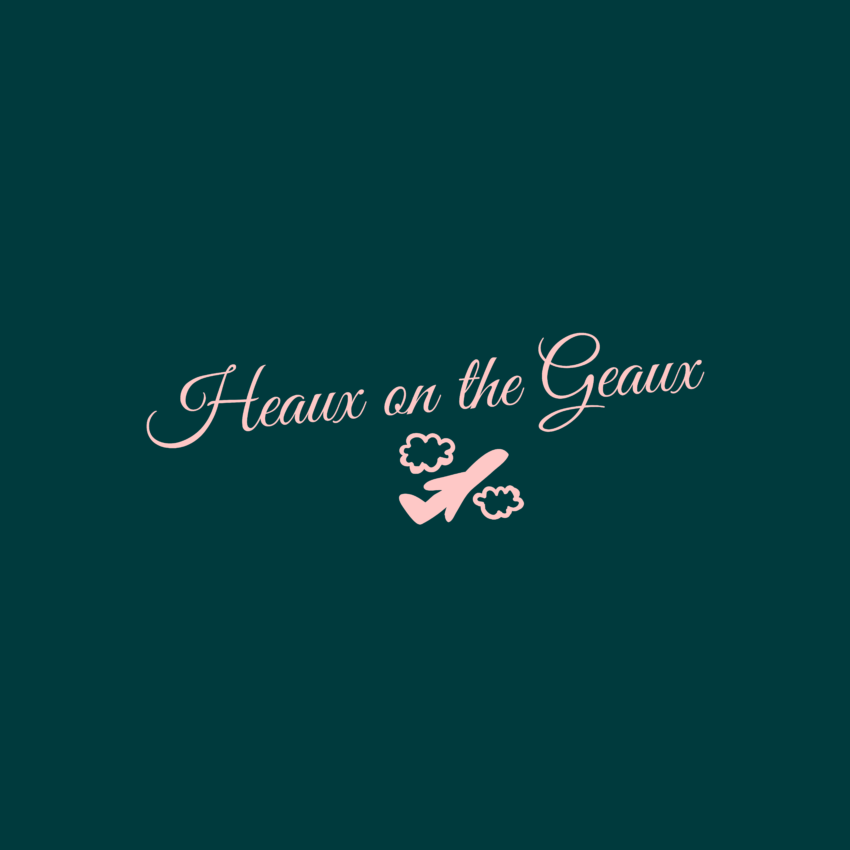 About The Author
"Saniyyah (They/Them/Saniyyah) aka @HeauxOnTheGeaux is a Community Sexual Health Educator, Pleasure Activist, Heaux Mentor, Abortion Doula & Sex Toy Reviewer. They strive to create easy & accessible, free sex education for folks in the Black and brown communities – prioritizing liberation, decolonization & harm reduction. Saniyyah's goal in their work is to create a world in which sex & shame no longer co-exist; a world in which speaking freely about sex & pleasure are no longer taboo; and as a non-binary, queer, polyamorous person, Saniyyah also emphasizes uplifting & highlighting those in their marginalized communities"